Get ready to support our local businesses this holiday season and have a chance to be rewarded weekly – and with a GRAND PRIZE of $1,000.00 in Buckskin Bucks! 
Starting November 1st through December 20th, 2023 is our 1st annual Wallowa County Buy Local Blitz! Every time you shop at your favorite Wallowa County Chamber businesses, you're not only supporting your community, but you are also getting a chance to win great prizes.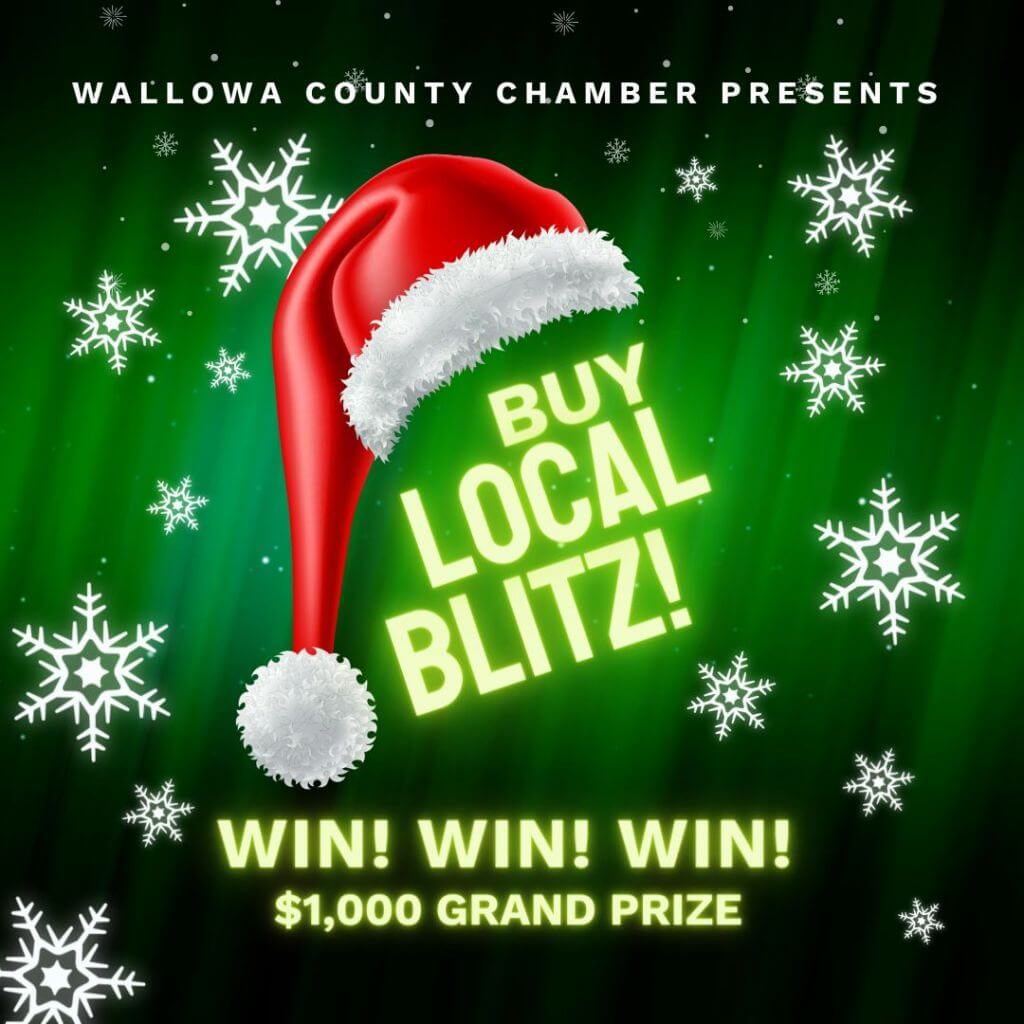 Save Your Receipt(s): After making a purchase of $10.00 or more at a Wallowa County Chamber Member business, hold on to your receipt. That's right, any purchase totaling $10.00 or more at any Chamber member business is an eligible receipt – this includes restaurants, retail shops, and even Wallowa County Chamber Buckskin Bucks purchased from the Wallowa County Chamber office! Email your receipt(s) to info@wallowacounty.org or drop your receipt(s) off at the Wallowa County Chamber office at 101 W. Main Street in Enterprise.
NOTE: One receipt per business per person per day allowed. For example, if you make five different purchases at five different Chamber member businesses in one day (and each purchase totaled $10.00 or more), you may submit all five of those receipts. If you make five separate purchases at the same business on the same day, you may submit only ONE of those receipts.
Weekly Winners: One winner will be selected every week to win $50.00 in Buckskin Bucks! Receipts submitted in a weekly timeframe will be eligible for that week's drawing. A winner in a weekly drawing may submit more receipts again the next week to be eligible for the next week's drawing. All receipts submitted throughout the entirety of the Buy Local Blitz contest will be eligible for the grand prize.
Follow us on Facebook: Make sure to follow us on our Facebook page for weekly drawing results and updates on the 1st annual Wallowa County Buy Local Blitz! The Wallowa County Chamber will be giving away Wallowa County Buckskin Bucks every week throughout the contest, so check in often to see who the winners are!
Grand Prize: By participating throughout the 8 weeks, you will automatically be entered for a chance at the $1,000.00 GRAND PRIZE in Wallowa County Buckskin Bucks. The Grand Prize will be drawn on December 21st at the Wallowa County Chamber Office. The grand prize winner will be announced on Facebook and notified via phone and email after the drawing.
Think about all the local shopping you could do with $1,000.00 in Buckskin Bucks!
**REMINDER: RECEIPT ENTRIES MUST BE FROM A WALLOWA COUNTY CHAMBER MEMBER BUSINESS IN ORDER TO QUALIFY**
When submitting a receipt (via email or in person), the following information must be included:
Business Name

 

Purchase Date

Receipt Total

 

Your contact information:

 

First and Last Name

 

Phone Number

 

Email Address

 

Mailing Address