Welcome to Wallowa County, an incredible destination for bike enthusiasts! With its stunning natural beauty and varied terrain, this region offers an unforgettable experience for cyclists of all levels. Whether you're a seasoned pro or a weekend warrior, there's something for everyone here.
When it comes to safety, the Wallowa Mountains Bicycle Club is a great resource. They offer classes and workshops on bike safety and maintenance, as well as organize group rides and events. They also provide helpful tips on staying safe while cycling in Wallowa County specifically. Biking in Wallowa County is unique! Please click & review the information below before planning your trip.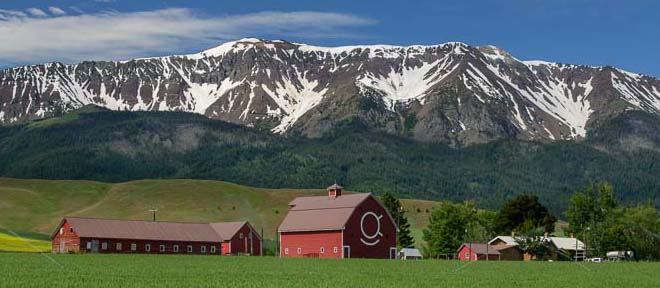 Try the Wallowa County Barn Tour as a bike route!
The Wallowa Barn Tour bike route was created by Dirty Freehub - a good resource for a variety of routes, including gravel and mountain bike trails, that cater to different skill levels. They provide detailed descriptions of each route, including difficulty ratings and scenic highlights, so you can easily plan your adventure.
Cycle Oregon is also a great resource for finding bike routes in the area. You can explore their website for detailed route maps, elevation profiles, and other useful information. Check out "Wallowa County - Connections," a project featuring rides for paved and gravel cycling with an emphasis on the inclusive history and businesses of the region.
Whether you're looking for a leisurely ride through picturesque countryside or an adrenaline-fueled mountain bike adventure, Wallowa County has it all. So why not pack your bags, grab your bike, and come experience the beauty and excitement of this amazing destination? We guarantee you won't be disappointed.