Buckskin Bucks – Buy Local Program
Buckskin Bucks – A "Buy Local" Campaign for Wallowa County!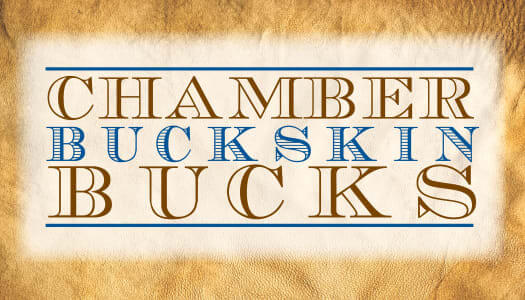 If you are an independent, local business owner in Wallowa County this campaign is for you! The goal of this campaign is to encourage local residents (or those planning a visit) to think local and choose locally owned businesses when buying goods and services. The objectives of a shop local campaign are: 
Re-circulate dollars in our community

 

Support and strengthen locally owned businesses

 

Get consumers to spend locally and participate with local businesses

 
Support Wallowa County Businesses!
Who should buy Buckskin Bucks? - Membership is not required to purchase. Everyone can buy Buckskin Bucks! Residents, businesses, organizations, nonprofits, visitors, "everyone" can purchase Buckskin Bucks to give to employees or volunteers as incentives or end of the year bonuses. These Bucks are also great for birthdays, recognition days, goal achievements, safety awards, door prizes, holiday gifts, weddings and anniversaries, anything you can imagine! What a unique gift and great way to keep our dollars in Wallowa County! 
Can my business accept Buckskin Bucks? All Wallowa County Chamber members are invited to join our shop local campaign. Give the Chamber a call at (541)-426-4622 or email at info@wallowacounty.org and we will help get the process started. A special "Shop Local" decal will be provided to participating businesses. *Participants need to comply with all program guidelines and develop a working knowledge of the program. 
Where did the name "Buckskin Bucks" come from?
A Historical Account of Buckskin Money
In late 1932, a headline in The Enterprise Record Chieftain, Wallowa County's leading newspaper, read "No Cash Left for County's General Fund". Stranger than fiction, it is true —Wallowa County printed its own money. This occurred after the stock market crash of 1929. The great depression reached Wallowa County in 1932 and it hit hard —not just in Wallowa County, but in many of the small communities across the country. Times were tough and a few business men of the Enterprise Chamber of Commerce came up with a temporary solution. Historian Grace Bartlett recollects the story of Buckskin Bucks in her book From the Wallowas (1992). In March of 1933 the business men of Enterprise proclaimed their ideas and the newspaper headlines announced:
"Buckskin Scrip Proposed here: Money Backed by County Warrants Endorsed by Chamber." The following appeared in the paper: (reprint) Buckskin scrip in units of "one buck" and "one half-buck" will be issued by the Enterprise Chamber of Commerce soon, if plans discussed at the meeting Tuesday night are carried out. Plenty of deer hides are on hand, in custody of Game Warden George M. Rogers, and the idea is to tan these to a fine, nearly white color, cut them up into pieces a little smaller than regular money, and print them with especially made plates indicating their origin and value.They will be as good as any money in the country, for they will be backed by Wallowa County warrants. The scrip will be prepared by trustees in charge of the business, and they will give it in exchange for an equal sum in county funds warrants, which pay enough interest to cover the expense of the operation. When the county takes up the warrants to back up the scrip, the trustees will take up an equal amount of scrip and cancel it. There will always be full value in warrants behind every penny of scrip.  
The scrip's "Void after July 1, 1935" was not necessary since the financial pick-up was rapid, after 1934 there soon was no need for the scrip. Profits from the scrip, obsolete by 1936, funded the tennis courts at the Enterprise city park, with the tennis courts still in use today.
*Reprinted text: Grace Bartlett, From the Wallowas; Sources: Nancy Garban Attebury & Nancy Rudger, About the Wallowa County, People, Places, Images. 
How does the Buckskin Bucks program work?
The purpose of this program is to encourage people to shop locally and to promote the many wonderful businesses who support the Chamber through their membership. It's a win-win for the gift giver and local businesses!
Buckskin Bucks are prepaid...like a gift certificate or a check! Anyone can purchase Buckskin Bucks in the amount of $10 or $25 from the Chamber office. The Buckskin Bucks have a one-year expiration from date of purchase. Bucks are sold for the exact value of the coupon and are redeemed for the same exact value. Buckskin Bucks can only be spent at participating businesses (view full list HERE).
Example of a Buckskin Buck purchase transaction: A customer enters your business with a $10 Buck to purchase an item for $8.49. This purchase is handled in the same way as if it were a $10 check to be cashed. The customer fills in the name of the business and signs the back of the Buck. The clerk verifies that the name of business and customer signature are added. The change given to the customer is $1.51. The change you give back to a customer cannot exceed $5. A customer cannot redeem Buckskin Bucks for cash. Lost Bucks cannot be replaced.  
Businesses can redeem their Buckskin Bucks from the Chamber office in person or by mail. A check will be issued immediately in person (or within 5 business days after the Chamber receives the reimbursement request by mail) for the total of the Buckskin Bucks turned in. Reimbursement of Buckskin Bucks is for Wallowa County Chamber of Commerce membership businesses only.